The model is based on the options open interest in the major equity indices. The data is downloaded and calculated each night to produce actionable trading levels.
SpotGamma produces price levels and triggers which can be overlaid on just about any trading strategy:
S&P500/SPY price levels: These levels can work as floors or ceilings, or pins.
Volatility Trigger™: If the market moves below (above) this trading level then market volatility could increase (decrease)
"Total Market Gamma" is often the metric that most people are familiar with. Studies have show that when total gamma is >0 the market tends to have smaller price distribution, with a slightly positive average daily return. When gamma is <0 the price distribution widens out substantially and we estimate a negative average daily return. Said another way things get more volatile when gamma is negative.
This may mean that you select a different trading style depending on the market gamma levels. We think that markets with high positive gamma tend to be mean reverting with a tight trading range. Negative gamma markets may feature wide price changes with more of a directional basis. Here is an example of what we see as a typical "high gamma" day:
There are several ways to trade these ranges. For instance, if you hold long stock you may want to buy a protective put when the market trades below Volatility Trigger™. You may also want to use the "Call Wall" as a place to sell calls. Or you might find success swing trading between significant levels. See the "Backtest" page for an idea of how the market reacts at different levels.
NOTICE: As with any market model, there are no guarantees. This site and its authors offer this information for research purposes only. Major news, events, sudden shifts in sentiment, etc. could suddenly render these market indicators irrelevant. Please mind your risk.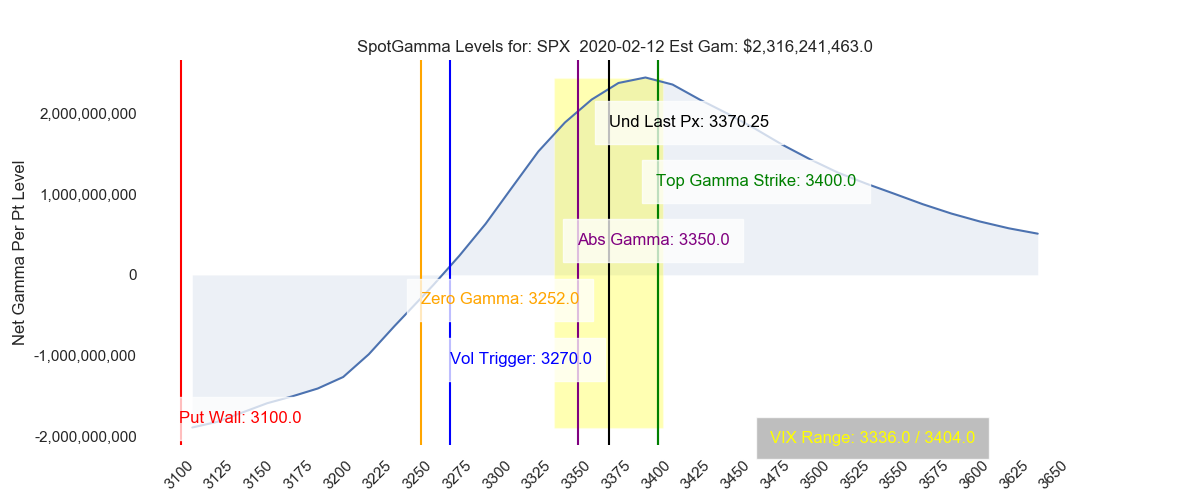 Zero Gamma : This is the estimated level at which dealers flip from "long gamma" to "short gamma". Think of this indicator as the S&P500 level at which volatility shifts from low to high. When the market is above the indicator value traders and investors are more likely to see lower volatility markets due to the options dealers long gamma position . Below the indicator we an anticipate rapid, out-sized moves because dealers are short gamma.
Volatility Trigger™ : Based on a proprietary risk model the Volatility Trigger™ is our estimate of the last major level of dealer support or resistance. We generally look for an "air pocket" between this level and the zero gamma level. This differs from the zero gamma level in that below zero gamma, dealers may short (buy) futures as the market declines (rises). The volatility level indicator adjusts daily. Here is an analysis of markets moving through the volatility trigger™.
Call Wall: This indicates a level which could act as a "pin" or "wall" or "floor" for the S&P 500 based on options market maker flows. See the backtest here.
Put Floor: The first put support zone based on our analysis of open interest. Large put positions concentrated at a specific strike could form as "pivots" that hold the market. The theory is that as these large put positions are closed, dealers (who are short these puts, hedged with short futures) buy back short futures positions, possibly causing the market to head higher.