A double-whammy of 'soft' Mnuchin confirmation that a fiscal "deal" pre-election is unlikely and the reacceleration of COVID-19 restrictions and closures across Europe, sparked a significant 'risk-off' move overnight with Nasdaq almost erasing all its gains for the week…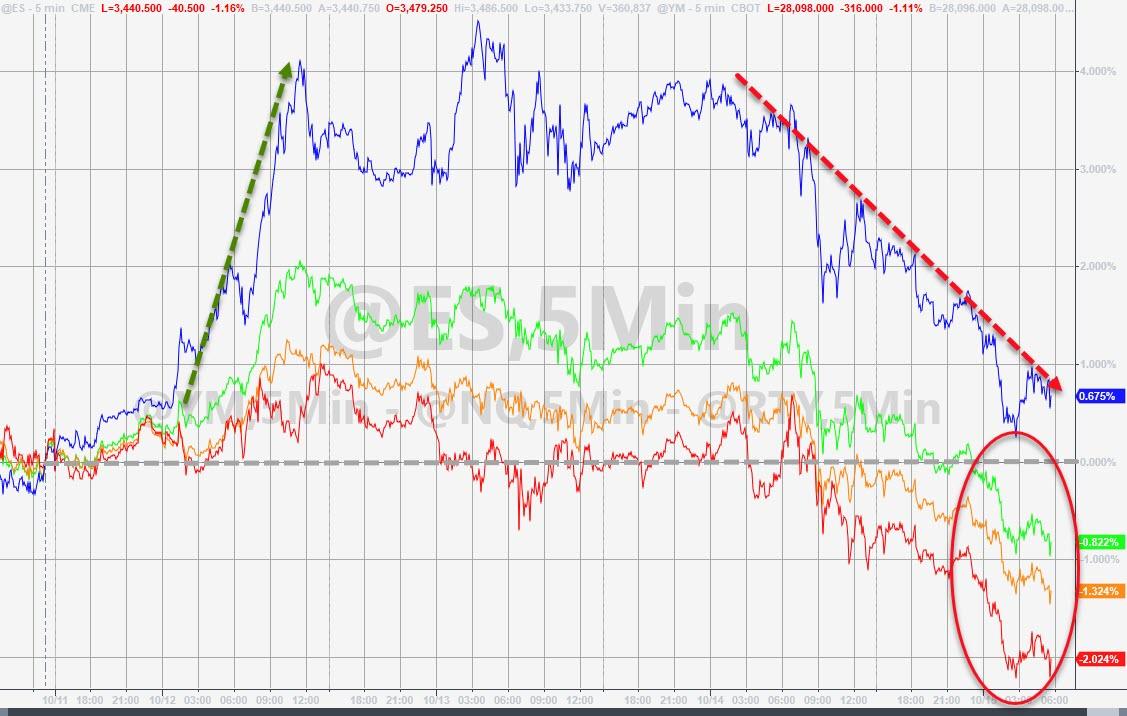 But, as Nomura's Charlie McElligott details, with stocks are the forefront of cross-asset risk sentiment, the talking-point on the desk is simple:
you cannot overstate the Gamma impact on the overall market of those single-name mega-cap Tech options expiring tomorrow

The reason, simple again – the options market tail wagging the broad US equity market dog as McElligott points out that the "negative Gamma" in these monster positions (from the calls which the Dealer is short this expiration in AMZN, ADBE and NFLX as largest standouts) has them chasing the market to remain Delta hedged, accelerating the swings in both directions this wk.
We saw the call-buying volume collapse – just like it did after Nasdaq-Whale impacts in August…


AS NOMURA'S MD NOTES, THERE IS SIMPLY SO MUCH CONVEXITY NOW JUST A ONE DAY OUT FROM EXPIRY IN THESE CALLS – SIMILAR TO WHEN THE STOCKS BLEW THROUGH THEIR STRIKES TO THE UPSIDE ONLY A FEW DAYS EARLIER AND FORCED MASS DELTA BUYING TO STAY HEDGED – THAT WE SEE THE OPPOSITE ACCELERANT FLOW ON THE WAY DOWN, WITH THE DELTA ON THESE NOW 1-DAY OPTIONS HAVING REVERSED THOSE PRIOR MOVES AND UTTERLY COLLAPSING (LOOKING MUCH LOWER PROBABILITY TO STRIKE), THUS LEAVING THE DEALER OVERHEDGED "LONG," WHICH MEANS COLLECTIVELY / POTENTIALLY ~$BILLIONS OF DOLLARS FOR SALE INTRADAY THE LOWER WE GO ACROSS WHATEVER THE PREFERRED HEDGING MIX IN THESE MARKET LEADER TECH STOCKS (AMZN BEING THE LARGEST POSITION – PARTICULARLY THE 8K OCT 3420 CALLS, STOCK NOW 3289 LAST PREOPEN AFTER HAVING TRADED UP TO $3496 JUST MONDAY!), QQQS OR NASDAQ (EVEN SPX) FUTURES.



As McElligott warned earlier in the week, the issue into- and out of- expiry on the index level will be the dangerous set-up with:
1) "extreme long" $Delta via options (remember just two days ago we had QQQs at 100th %ile and SPX / SPY at 97.5%ile)…
…then synchronizing with 2) a massive "Gamma drop-off" coming out of this expiration (QQQ still showing ~60% of $Gamma dropping after Friday, SPX / SPY down slightly but still ~29% dropping-off).