We think that much of what has pushed TSLA's massive runup in price has been a "gamma trap". The idea being that in-the-money long calls and new long call positions force dealers to buy the stock as it goes higher.
Our model detects a lot of very deep in the money <=400 strike calls, which are essentially 100 delta options. If you note at the bottom we show that the "Largest Delta Date" is Jan 2021 which implies that the bulk of the in-the-money positions don't expire until Jan '21. Several of the convertible bonds issued by TSLA had ~$350 as a key strike price which is likely why our model flags 400 as such large delta strike (blue circle below). There is a large March 2021 convert which may explain the Jan 2021 key expiration date for these calls.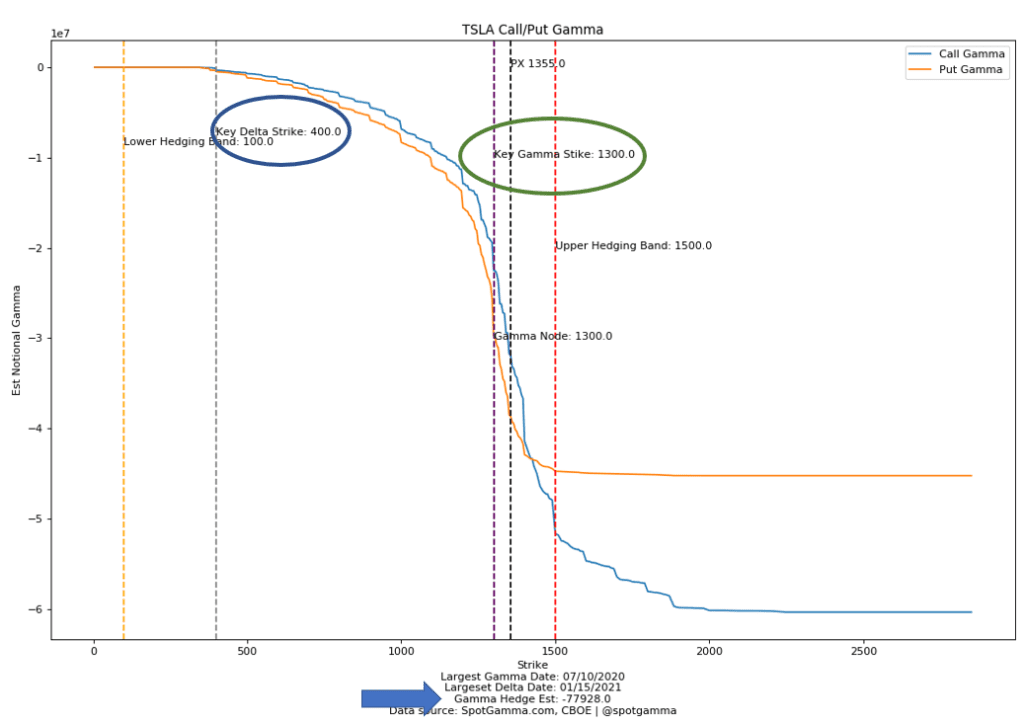 On the upside we note many calls have formed around 1300 (green circle) and see that the stock has now outpaced this level. You can also see that the blue line "tails off" as we move near 1500 which implies that gamma slows near that strike. Its quite possible that if the stock were to continue higher that new calls would be added which changes the model estimation.
TSLA obviously has many fans, and is popular with the retail community. Note its position on the RobinTrack leaderboard at left. This helps the stock moving higher, and forces dealers to keep buying. You can see by the "Largest Gamma Date" above that many of the calls around at the money (highest gamma) are grouped for the 7/10 expiration. As these are short term, weekly expiration options they imply speculative positions. Therefore we have a situation in which retail buyers are very active, as is action in short term high gamma call options.
However the same "gamma trap" that forces dealers to buy also works the same in reverse. If the stock starts to drop dealers will start to sell shares.
Clearly January 2021 will be an interesting time for this stock but as that is months off the short term movement likely relates to sentiment. There is plenty of momentum higher in the stock, with 1500 as a key level.
---
We found this thread in regards to the converts for those that are interested. As we are far from experts in the space we appreciate any comments or notes on these positions. sg@spotgamma.com
How did elon flog off the new share part of this raise? What dummies need to own so many hundred million more $tsla?
Turns out, 50% of new shares were purchased by banks to deliver Teslas u-turn of a fat amount of the convert in an option hedge:(birdie sent me) pic.twitter.com/H0B8364MXD

— Justin (@Trumpery45) May 4, 2019